Řáholec Cup 2009 › Results › Day 5 › 10.10.2009
Day 1 ÷ Day 2 ÷ Day 3 ÷ Day 4 ÷ Day 5 ÷ Overall Results ÷ Practise Day
| | | | | | | | | | | |
| --- | --- | --- | --- | --- | --- | --- | --- | --- | --- | --- |
| # | | PILOT | CN | RN | PLANE | DISTANCE | TIME | SPEED | PEN | SCORE |
| 01 | | Radek Mica | RM | OK-5417 | PW-5 | 177.05 km | 02:15:26 | 78.4 km/h | 0 | 1000 |
| 02 | | Helmut Kuenne | F9 | D-2318 | PW-5 | 177.05 km | 02:16:28 | 77.8 km/h | 0 | 989 |
| 03 | | Tomasz Siejek | GD5 | SP-0055 | PW-5 | 177.05 km | 02:19:54 | 75.9 km/h | 0 | 955 |
| 04 | | Piotr Raczynski | PIT | SP-2901 | PW-5 | 177.05 km | 02:23:16 | 74.1 km/h | 0 | 923 |
| 05 | | Norbert Kiss | CN | HA-1974 | PW-5 | 177.05 km | 02:26:08 | 72.7 km/h | 0 | 896 |
| 06 | | Andrzej Czop | CIA | SP-3043 | PW-5 | 177.05 km | 02:26:30 | 72.5 km/h | 0 | 893 |
| 07 | | Sandor Laurinyecz | LS | HA-4483 | PW-5 | 177.05 km | 02:27:05 | 72.2 km/h | 0 | 888 |
| 08 | | Ladislav Cervinka | LAD | OK-1979 | PW-5 | 177.05 km | 02:27:57 | 71.8 km/h | 0 | 880 |
| 09 | | Janos Tornyai | FLY | HA-1969 | PW-5 | 177.05 km | 02:28:00 | 71.8 km/h | 2 | 878 |
| 10 | | Janos Cservenak | G83 | HA-5401 | PW-5 | 177.05 km | 02:31:31 | 70.1 km/h | 0 | 850 |
| 11 | | Fil Sykora | FIL | OK-3316 | PW-5 | 177.05 km | 02:32:14 | 69.8 km/h | 0 | 844 |
| 12 | | P Geza | GP9 | HA-PG | PW-5 | 177.05 km | 02:35:28 | 68.3 km/h | 0 | 817 |
| 13 | | Pawel Zgondek | PZG | G-PAULA | PW-5 | 177.05 km | 02:36:19 | 67.9 km/h | 0 | 811 |
| 14 | | Slawek Lizon | SLA | SP-1960 | PW-5 | 177.05 km | 02:49:31 | 62.7 km/h | 0 | 715 |
| 15 | | Jiri Ehrenberger | PJE | OK-6417 | PW-5 | 177.05 km | 02:50:17 | 62.4 km/h | 0 | 710 |
| 16 | | Brano Ziak | BZ | BRANO | PW-5 | 95.69 km | | | 0 | 285 |
| 17 | | Martin Mojs | MM | OM-8026 | PW-5 | 87.93 km | | | 0 | 262 |
| 18 | | Svato Pelcak | PS5 | OK-6816 | PW-5 | 33.46 km | | | 0 | 100 |
| 19 | | Jaroslaw Kajoch | JK | SP-2626 | PW-5 | 177 km | 02:28:34 | 71.5 km/h | 0 | 0 |
| 20 | | L Somogyi | SL | SL-1970 | PW-5 | 177 km | 02:32:36 | 69.6 km/h | 0 | 0 |
| 21 | | Dusan Masaryk | DWA | OK-RED | PW-5 | 151.3 km | | | 1 | 0 |
| 22 | | Daniel Forejt | 0X0 | OK-3600 | PW-5 | 32.7 km | | | 0 | 0 |
| 23 | | Marcin Martyna | MRM | SP-3423 | PW-5 | 7.8 km | | | 0 | 0 |
| 24 | | Mateusz Syc | NSA | SP-3490 | PW-5 | 7.5 km | | | 0 | 0 |

Download IGC files (all pilots in one ZIP file) | Detailed results (mCR, mIAS, nLift, Detour%...)
Briefing › Day 5 › 10.10.2009 › 20:00 CEST › Saturday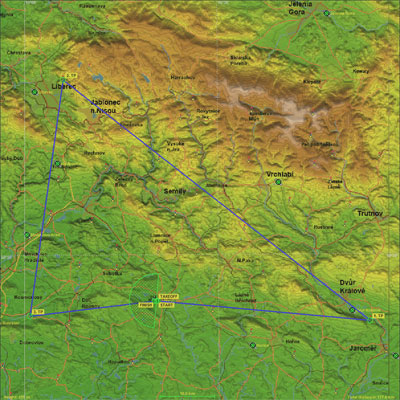 Server:Raholec Cup 2009
Password:
Date:10.10.2009
Time:20:00 CEST (18:00 UTC)
Join time:30 min.
---
Landscape:Czech Republic 0.5
Plane class:World (PW-5)
Task type:Racing task
Start time:13:00:00
Condor date:27.06.2009
Start alt:1300 m
---
TakeOff:Jicin
Start:Jicin
1. TP:KUKS
2. TP:REITENSTEIN ZR
3. TP:BREZNO ZAM
Finish:Jicin
Distance:177.0 km
---
Cloudflying not allowed! Circeling in the direction of climb is determined by the first glider in thermal. If you have doubts about the circeling direction, ask in the chat. Please fly safe, good luck to all pilots.
---

Download Flightplan (FPL file)